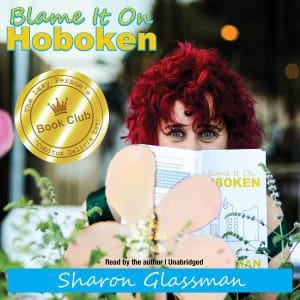 Is there a mathematical formula for love? … can a tour guide with a gift for seeing things others overlook find it in time?
Blame it on Hoboken is a charming audio novel with 12 original songs. Dozens of actors. And lots of fun sound effects.
Set in Sinatra's hometown, this mood-boosting audio novel is brought to you in short episodes. With recaps to help you keep track of the plot.
Great for book clubs and busy readers of all kinds.
And now?
You can hear Blame it on Hoboken on bottles of Snowy Peaks Winery's Oso Rosé. Just scan the QR or URL on the wine label.
"A true delight for anyone who's dared to pursue a big dream: a must for lovers of romantic comedy, independent spirits, classic myths, and the magic of music." —Vivek Tiwary, Broadway producer and author of The Fifth Beatle
About the author: Sharon Glassman is a Gracie Award-winning radio humorist. Nationally-presented storyteller. Author of "Love, Santa" (Grand Central Publishing). As the creator of The Lazy Person's Book Club she turns her original fiction into live shows; podcasts and audio books with songs and actors. Like Blame it on Hoboken.
Hear Blame it on Hoboken on The Book Club Wine from Snowy Peaks Winery.
Also available as a Blackstone Audio book wherever audio books are sold.