Your life is a wonderfully personal thing! You deserve a song that's as unique as you are to celebrate your big days.
I'm an award-winning Colorado singer-songwriter and journalist. My custom love songs celebrate your wedding, baby, birthday and other life events or celebrations in a uniquely personal way.
The music's happy. Acoustic. Sweet. Upbeat.
Song lyrics are entertaining. Beautiful.
Folks smile when they hear them!

Combining my skills as a journalist, songwriter and storyteller, I create a custom song from your personal story:
We chat about your love story. Life event. Beloved. (It's friendly and fun!)
I write and record your song inspired by sweet, fun, powerful details.
You enjoy and share. And smile!
A Smile Songs custom song is a small investment that can bring a lifetime of happiness.

Smile Songs add a personal touch to your special event and big day in lots of fun ways …
Play the recorded mp3 of your Smile Song as part of your DJ's set list.
Add Smile Songs singing QR codes to your invitations and more. It's easy! And fun.
How does that work?

It's easy to add your Smile Songs QR code to your invitation design. And other fun things, too!
Imagine the smiles when your guests hear your song play on your …
singing Save The Date announcement
singing wedding invitation
singing bridesmaids gift
singing Thank You Cards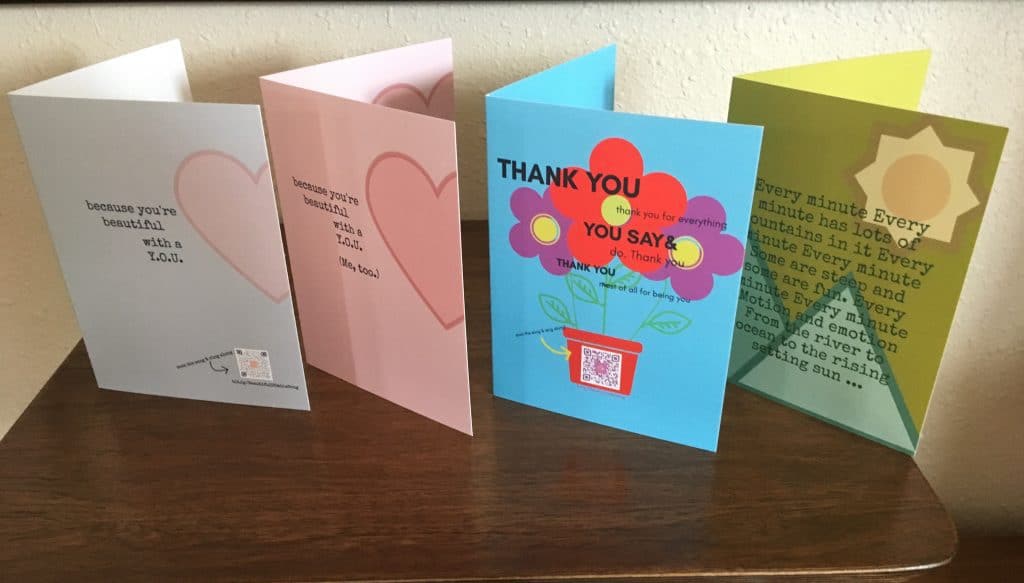 I can design you a custom Smile Songs singing poster, cards and/or art print:
Display your singing art print or poster at your reception. Bridal shower. Rehearsal dinner. Brunch.
Scan the QR code to play your song.
Lasting souvenir of your celebration that sings to the eyes, heart and ears.
Ask me for details.
Visit my Etsy Store, where you can buy an assortment of my existing Smile Songs singing art prints and posters.
I think you'll really enjoy how my custom love songs and personalized singing art prints make your ears and heart smile!
I love love. And I'd love to help you celebrate your happiness with a song.
Contact me below.
Sharon captured our love story in one conversation! Our song was written with so many meaningful details from our relationship. We love that our song is unique to us and can't wait to share it with our family and friends on our wedding day!" – Michelle B.