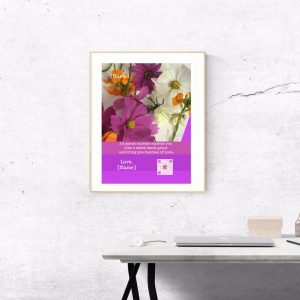 My original, happy songs celebrate your big day. The folks you love. And here's two fun ways to enjoy them:
Order a personalized poster that sings one of my happy songs at my Etsy store. Just scan the QR code on the design to hear me sing to you!
Contact me to write you a beautiful custom song. 
My singing posters and custom songs make a great wedding gift. Birthday gift. New baby gift. Anniversary gift.
So… why are my songs called Smile Songs? 
The music's happy. Acoustic. Sweet. Upbeat.
Song lyrics are entertaining. Beautiful.
Folks smile when they hear them! For example:
"Nobody But You" (wedding song)
"Grow" (birthday song)
"Family Tree" (new baby song)
See sweet Smile Songs posters.
How do I create your custom song?
As a journalist, songwriter and storyteller, I chat with you about the amazing person, occasion you're celebrating.
Next? I write a song that celebrates moments. Words. Images you're shared.
Then: I record your song for you to hear and share. And smile.
Contact me below about commissioning a custom song.
Visit my Smile Songs Etsy store.