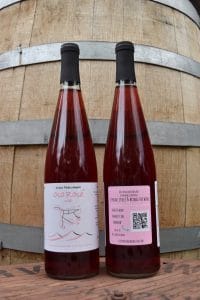 It's hard to find time to read. But easy to find time to sip a glass of wine! So, I turned my novel, Blame It On Hoboken, into an audio book. And… partnered with the wonderful folks at Snowy Peaks Winery to put the audio book on special bottles of their Oso Rosé.
The result: A mood-boosting novel that reads itself … and brings the wine. Fun for book clubs. Beach book lovers. Dinner entertainment. When the kids are in bed.
Blame It On Hoboken is a delightful romantic comedy. Performed by professional voice actors. And everyday folks. 12 songs. Many sound effects. Short episodes. Plot recaps make it easy to enjoy.
Snowy Peaks Oso Rosé: This DRY Rose is made from Cinsault and Black Muscat, with a little bit of Petit Verdot and Mourvedre added for complxity grapes. A refreshing food friendly wine with aromas of pomegranates and lychees. With bright flavors of strawberries and peaches, this is the quintessential summer wine.
Putting an audio novel on a bottle? It's the latest phase of my Lazy Person's Book Club project. My goal: bring original fiction to busy book lovers in fun ways.
Where will you drink in Blame It On Hoboken? Contact me below.
ps: The Lazy Person's Book Club is also a live show and a podcast.